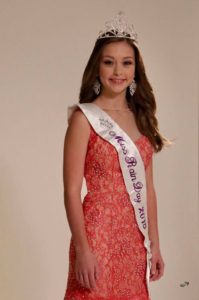 Loren Schroyer-Miss Rain Day 2018
Rain Day Scholarship Inc. accepts applications for the Miss Rain Day Scholarship Pageant each spring. The pageant is open to girls ages 14 to 18 as of Rain Day, July 29th, who must reside in Greene County.
Each contestant will compete in a personal interview and sportswear, talent and evening gown competitions. Scholarship savings bonds will be awarded in the following categories: Miss Photogenic, Miss Personality, Rain Maker Award, Kelly Smotzer Memorial Award, Remo Bertugli Memorial Award, John O'Hara Award, Top Talent, Evening Gown Winner, Sportswear Winner and Personal Interview Winner.
Miss Rain Day will be named along with runners-up and they will serve as the guests of honor during this year's Rain Day celebration. All contestants will be presented with a savings bond just for participating, along with gifts from the Special Events Committee.
For more information about Rain Day Scholarship Inc and the Miss Rain Day Pageant go to: