Position: Wayne Drop Mascot/ Rain Day Ambassador
Salary: To be determined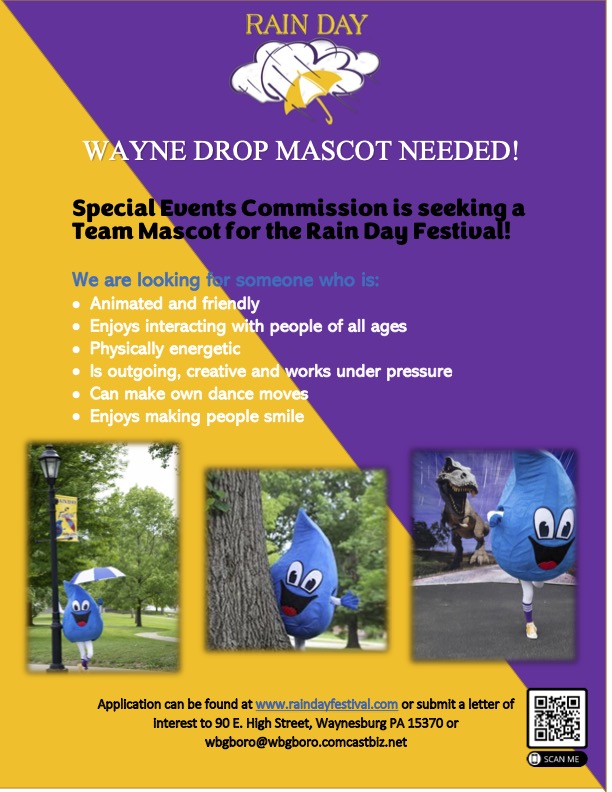 Hours: Rain Day, July 29, 9:45am –9pm
Multiple breaks through out the day.
Available to attend other events to promote the Rain Day Festival.
OVERALL OBJECTIVE OF THE JOB: To enhance the fun atmosphere of the Rain Day festival and other local events by interacting with attendees, including both children and adults. To be a walking advertisement for Rain Day, encouraging folks to take selfies, dance, etc.
REQUIREMENTS OF THE JOB:
Outgoing personality, friendly, enthusiastic!
Must be 16 years of age or older. A work permit will be required.
Must fit into Wayne Drop costume and be able to stand and walk for long periods of time.
Must be able to work in hot conditions because of summer weather and being in costume. Must be in good physical shape.
You are responsible for taking good care of the costume and making sure it does not get dirty, damaged, or stolen. All attire provided is property of the Special Events Commission.
Must attend other events to help promote the Rain Day Festival. You will be paid for these events.
OTHER:
This is a one-year agreement-based on mascot performance.
DISCLAIMER: Transportation to and from events is the sole responsibility of the chosen applicant.
HOW TO APPLY
Please submit a letter of interest to [email protected] or mail to the Waynesburg Borough office by Friday November 11, 2022 by noon.
Special Events Commission 90 East High Street
Waynesburg PA 15370
Special Events Commission will contact you to set up the Auditions/interview time.
You will be asked to try on the costume and interact with a few people.
Please bring comfortable shoes.
Tentative Try out Date to be determined.