The planning of the Rain Day Festival starts in January of each year and usually wraps up mid-August.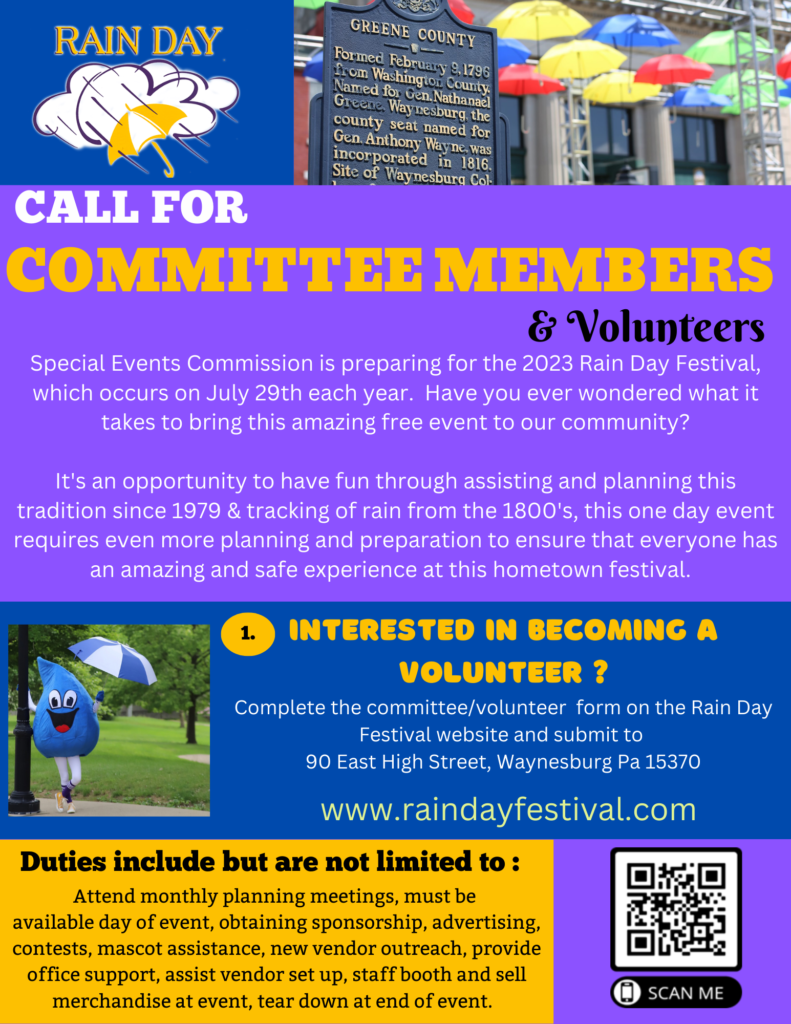 If you are interested in joining the Special Events Committee as a committee member or a volunteer to assist with this ongoing tradition, submit the application to Special Events Commission at 90 E. High Street, Waynesburg PA 15370, or email to [email protected]. Must be available to work Rain Day!
In 1979, the Waynesburg Borough Special Events Commission (SEC) was created to hold a special celebration on July 29th each year. The purpose of the SEC is to organize and execute the Rain Day Festival, which is held each year on July 29th.
Special Events history goes back to 1874 with the first record keeping of rain in Waynesburg Borough. You can check out the annual rain record chart. Special Events has been collaborating with the local Boy Scout Troops as they camp out throughout the night as our official Rain Watchers. The time of rain is noted and given to a member of the Special Events Committee or Mayor. If it has not rained throughout the night & rains during the day the Special Events, Mayor or Police will determine if it has rained within the borough limits. Rain must have fallen within the borough limits! All we need are a few drops to count!
Rain Day is an annual Festival that is held in the heart of downtown Waynesburg, with live entertainment through-out the day, many arts and crafts booths, hometown food, children's games, and other various diversions. Other activities organized and sponsored by the SEC is the Hat Bet with a celebrity, Umbrella Contest, Baby Rain Day Contest, Jack McCracken Award, Diaper Derby, Little Miss Rain Drop (3 age categories) and the local Downtown Business Window Decorating Contest.
"Wayne Drop" the official Rain Day Festival mascot joined our festival in 2015 and is a terrific addition to our event, Wayne Drop is loved by all, no matter what age. "Wayne Drop" can bring a smile to anyone's face.